Asian currencies vs. Yuan, rebased at 100 on 31.12.2013
The author (Charles Gave) notes, ten years after the 2008 crisis, a convergence of Asian currencies towards the Yuan, similar to the fluctuation band pattern before the introduction of the Euro.
"Et ce que l'on voit apparaitre après 10 ans, c'est un très joli serpent monétaire du style de celui que l'on avait en Europe avant l'introduction du détestable Euro. Et du coup, tout le monde peut faire du commerce dans sa monnaie nationale, celui qui serait en déficit pouvant se faire financer sans difficultés par la banque centrale Chinoise ou par les nouvelles institutions internationales créées par les autorités chinoises dont je vais parler maintenant."
Asian currencies vs. Yuan, rebased at 100 on 31.12.2013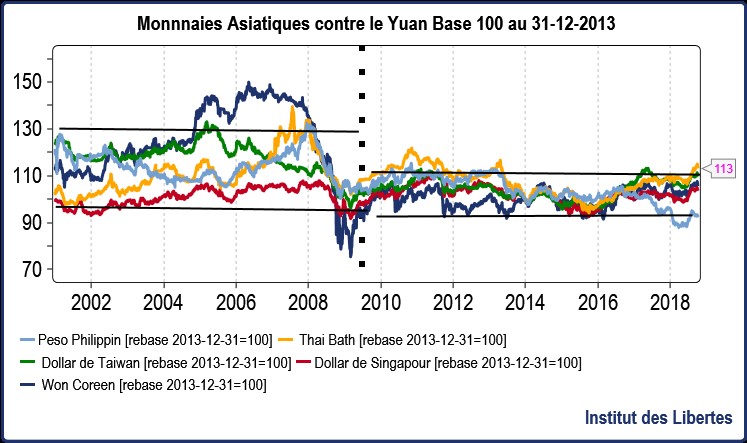 Institut des Libertés, "Guerre Commerciale Chine/ Etats-Unis"-Charles Gave

08.10.2018



Themes
Creative Destruction
Credit Crunch
Equity
Europe
Financial Crisis
Fiscal Policy
Monetary Policy
Oil
Panics
Permabears
PIIGS
Predictions