It's actually worse than that since all that I'm talking about means it is these guys who tell the politicians how things are going in the first place. If you are the only person responsible for assessing the situation, there is no need for accountability because everything will always be either awesome or just about to be so. Who wouldn't want to be handed the power to exclusively judge their own performance?
 
Haruhiko Kuroda takes all this to a next level, though. The Japanese have for a quarter-century pioneered the art of accomplishing nothing. It is of this track record that central bankers everywhere else have become envious.
 
Just as Jay Powell and Federal Reserve Chairman have to trek in front of Congress Kuroda has to appear before the Japanese parliament, both houses, as well. He did so yesterday at Japan's House of Councillors and today at the House of Representatives. The Governor of the Bank of Japan lamented:
On the price front, the year-on-year rate of change in the consumer price index (CPI) has been positive but has continued to show relatively weak developments compared to the economic expansion and the labor market tightening. This is largely attributable to the fact that firms' cautious wage- and price-setting stance as well as households' cautiousness toward price rises have been deeply entrenched, due mainly to the experience of prolonged low growth and deflation. [emphasis added]
But then he claimed:

The Bank has been conducting powerful monetary easing under the framework of "Quantitative and Qualitative Monetary Easing (QQE) with Yield Curve Control" introduced in September 2016. [emphasis added]

The YCC initials were added more than two years ago, that's true, but QQE has been ongoing for five and a half years. Therefore, how do we reconcile this second statement about "powerful monetary easing" with the first about "prolonged low growth and deflation?" Perhaps after more than a half a decade we all know for certain that it isn't powerful and in fact it isn't even monetary easing?

That's not even the worst of it. Kuroda testified to both houses that:

Japan's economy is expanding moderately, with a virtuous cycle from income to spending operating.
There isn't a single part of that sentence that is factually accurate. It's an entire lie. Japan's economy isn't even expanding, not really. Real GDP contracted in the third quarter, which this BoJ official begrudgingly acknowledges before blaming "temporary factors" such as "natural disasters." Maybe that was true in Q3, and that's already debatable, but how about the minus sign for Q1?

In other words, real GDP was down in two out of the three quarters so far of 2018, and things aren't looking grand for Q4.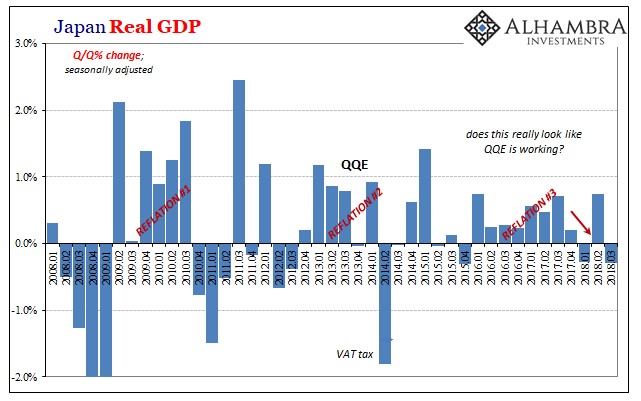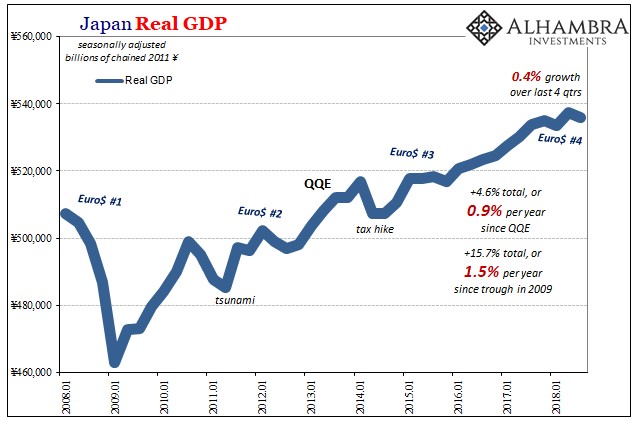 If Japan's economy is expanding in 2018 it's not doing so "moderately" it is clinging to barely.

As to this "virtuous circle" of income growth to spending growth, where is that? The latest figures from Statistics Japan, the Ministry of Internal Affairs and Communications, are all negative. Real household spending declined 0.3% year-over-year in October 2018, according to estimates released today, the second straight contraction and the eighth time over the last eleven months.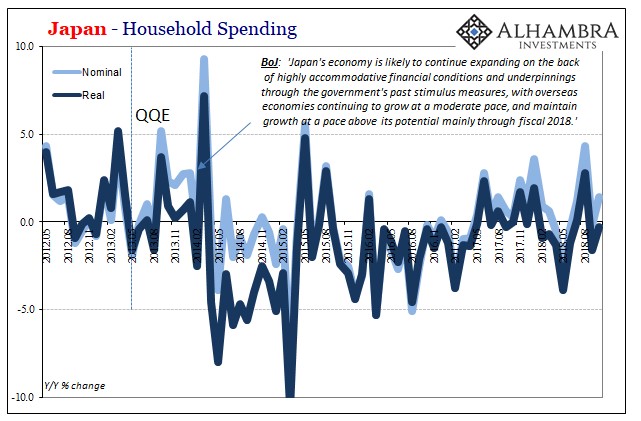 Even more concerning, or it would be if people stopped listening to the Kurodas of the world, household incomes are declining again, too. Real household disposable income fell sharply, down 2.4% year-over-year in October. It was the fourth straight substantial decline, making for seven out of the last ten months.
This wasn't supposed to be the case, not this year. For the first time in a long time (it was actually the second time, but memories are short in official circles), in 2018 real wages picked up to be positive. It was widely believed, and more widely parroted in the media, that this was the definitive, uncontested signal QQE had finally succeeded. Japan Inc. because of this globally synchronized growth thing was finally putting its money where Kuroda's mouth has spent the last half decade.
Except, that's not at all what happened. Wages did pick up, a very little and only for three months. And now they are right back down again. Unexpectedly, of course.
Japan's household spending unexpectedly fell in October and real wages slipped for a third straight month, adding to concerns about the strength of the economy as global trade frictions cloud export prospects.
Before "global trade frictions" it was Amazon (I'm not kidding) and before that something else. There is always, always an excuse for how year upon year of the most "powerful monetary easing" ever devised still adds up to "prolonged low growth and deflation."

The answer is very, very simple; it's just no one anywhere ever asks the question. Kuroda, Powell, Draghi, they are not alone in their complicity.

Leave it to Japanese officials to still be talking about globally synchronized growth long past its quite predictable expiration. The rest of the world is finally facing up to this next downturn after trying all year to wish it away. Kuroda is either delusional or he's so comfortable and complacent he's no longer even trying.